15 October, 2023
0 Comment(s)
99 view(s)
APDR
Press Release Dt. 15.10.2023 on Manipur IBs Over-activism wth CDRO Fact Finding Team Member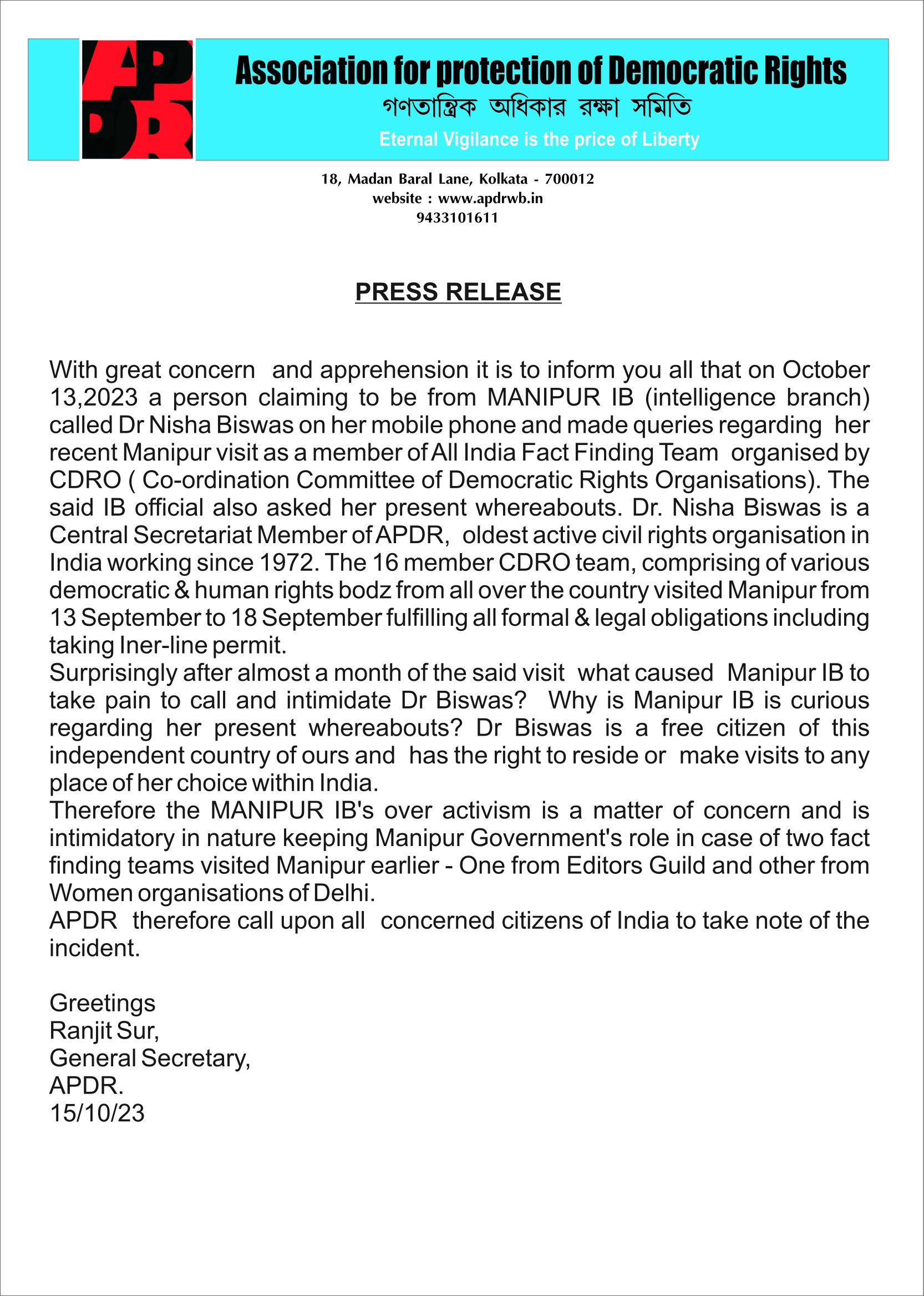 PRESS RELEASE
With great concern and apprehension it is to inform you all, that on October 13,2023 a person claiming to be from MANIPUR IB (Intelligence Branch) called Dr Nisha Biswas on her mobile phone and made queries regarding her recent Manipur visit as a member of All India Fact Finding Team organised by CDRO ( Co-ordination Committee of Democratic Rights Organisations). The said IB official also asked her present whereabouts. Dr. Nisha Biswas is a Central Secretariat Member of APDR, oldest active civil rights organisation in India working since 1972. The 16 member CDRO team, comprising of various democratic & human rights body from all over the country, visited Manipur from 13 September to 18 September fulfilling all formal & legal obligations including taking Iner-line Permit.
Surprisingly after almost a month of the said visit what caused Manipur IB to take pain to call and intimidate Dr Biswas. Why is Manipur IB is curious regarding her present whereabouts? Dr Biswas is a free citizen of this independent country of ours and has the right to reside or make visits to any place of her choice within India.
Therefore the MANIPUR IB's over-activism is a matter of concern and is intimidatory in nature keeping Manipur Government's role in case of two fact finding teams visited Manipur earlier - one from Editors Guild and other from Women organisations of Delhi.
APDR therefore call upon all concerned citizens of India to take note of the incident.
Greetings
Ranjit Sur,
General Secretary, APDR.
15/10/23